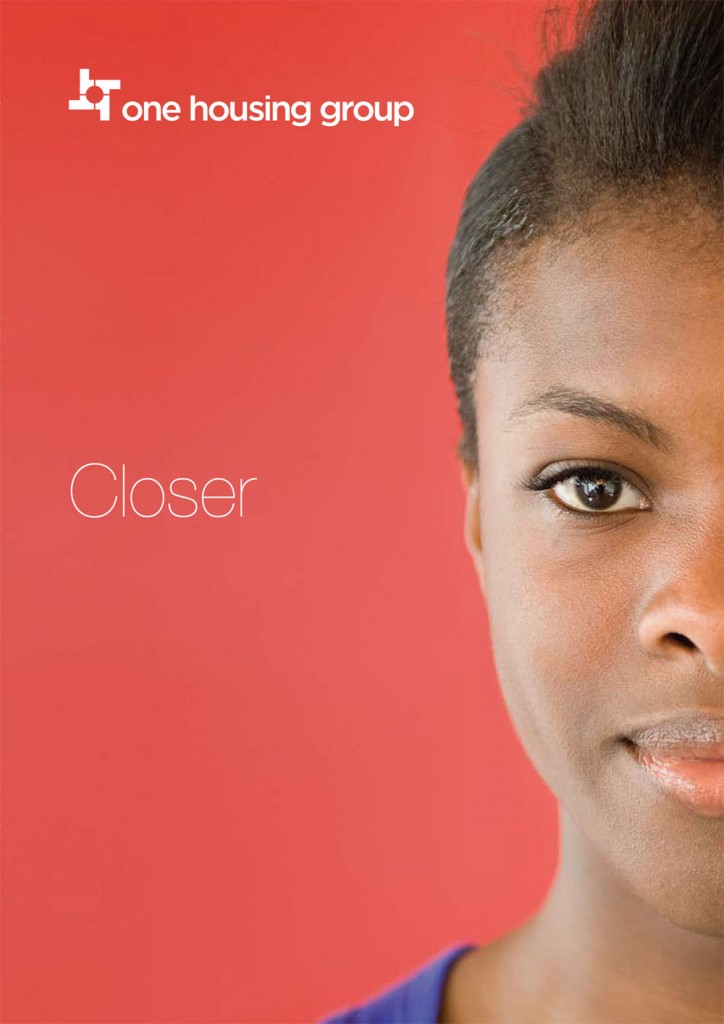 It's always a pleasure when work comes to you.
The email enquiry arrived in April. "We've seen the work you've done for Family Mosaic," it said. "Would you be interested in pitching for our annual report?" It didn't take long to put together the reply.
Pitch process over, we put together some initial ideas. Out of a choice of three, the client settled on "Closer": a way of showing how One Housing had been getting closer to their tenants throughout the year. Visualising this involved close-up, half face shots of me: thankfully, these will never see the light of day.
Fiona from OHG put together a list of tenants and members of staff to be photographed. We found a suitable photographer – David Fernandes – and then went down to our local stationers to get some backdrops: as you can see from the finished version, OHG have a wide range of colours in their corporate palette! It did, though, mean we had to lug a large roll of A1-size sheets of paper, card and polyprop across various different locations in London and Surrey.
Along with the concept and design, I also pitched in with some interviewing, writing and editing. One interviewee, in particular stood out: Kirsty, a former Olympic 400m hopeful who was the victim of a car crash that almost killed her. A young athlete who as a result of the accident, finds it difficult to breath and painful to walk. A young mother, who wants to give her son a better future. A young woman who, at the age of 20, knows what she wants to do with her life, and has just started as an undergraduate at Middlesex University.
It was one of those stories that make you sit and reflect. Which is always a sign of a job worth doing.